After my first eucalyptus bundling experiments a few weeks ago, I've been desperate to have another go. I had some scarves ready to dye and chose to compare bamboo, a cellulose fabric, and soya jersey, a protein fabric.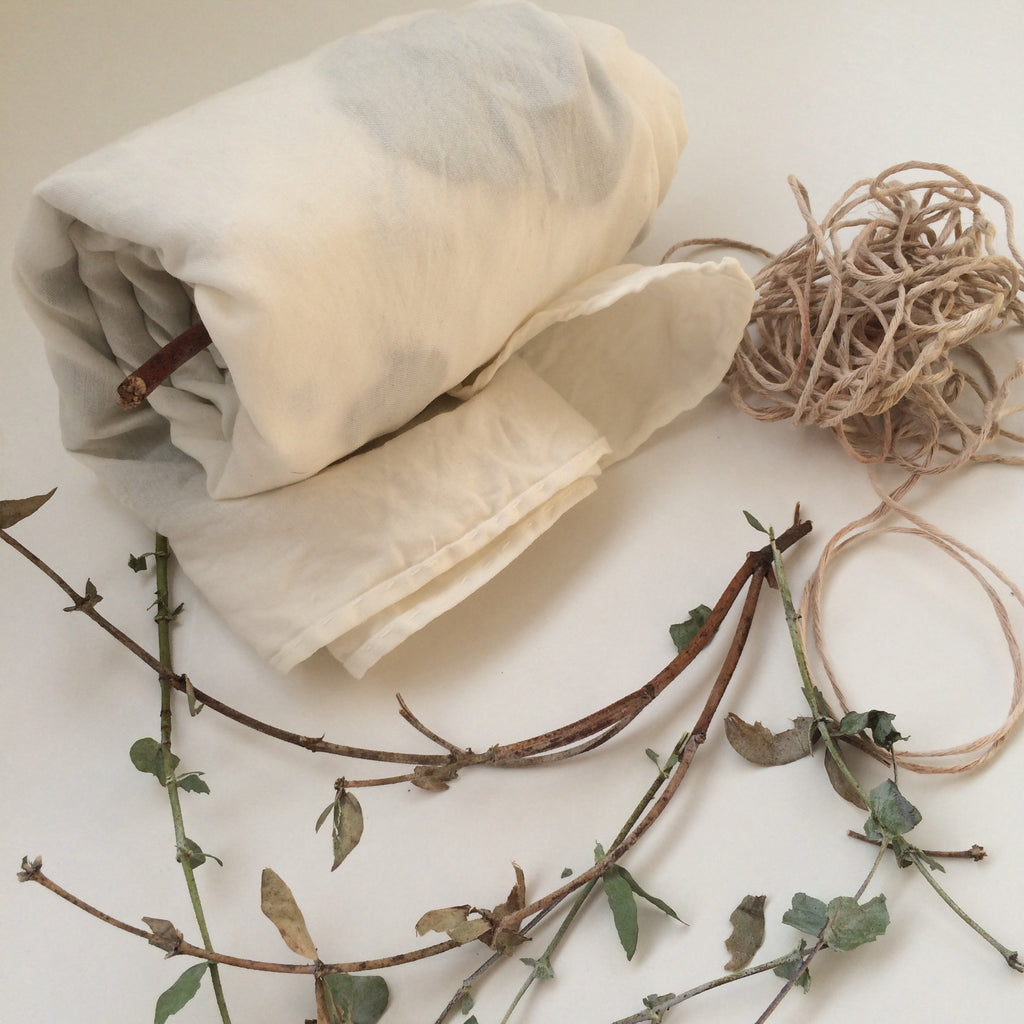 The eucalyptus leaves were torn off by my toddler son who wanted to help me 🙂 
When I unrolled the bamboo scarf, the smell from the eucalyptus was incredible! I couldn't believe how dark and rich the markings were. The bamboo fabric had produced apricot colours last time, so I was amazed by the reds!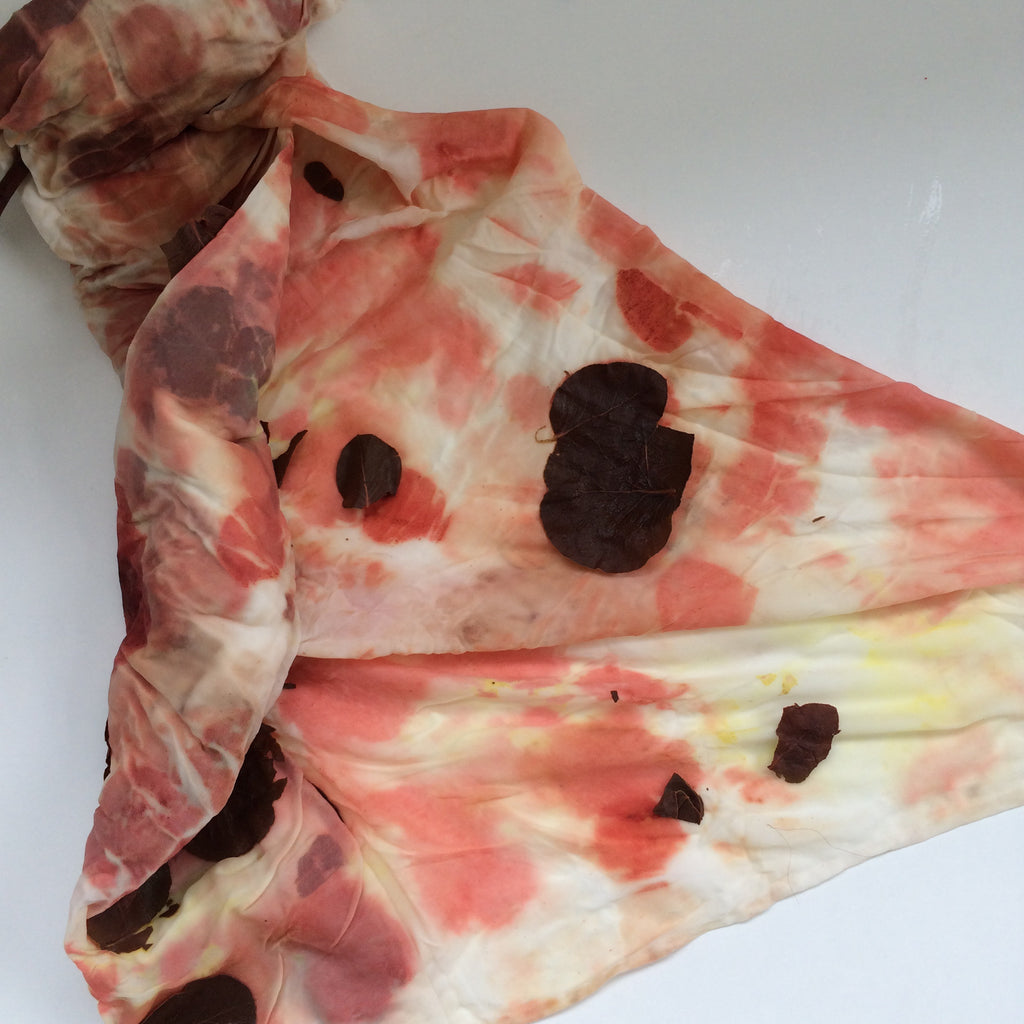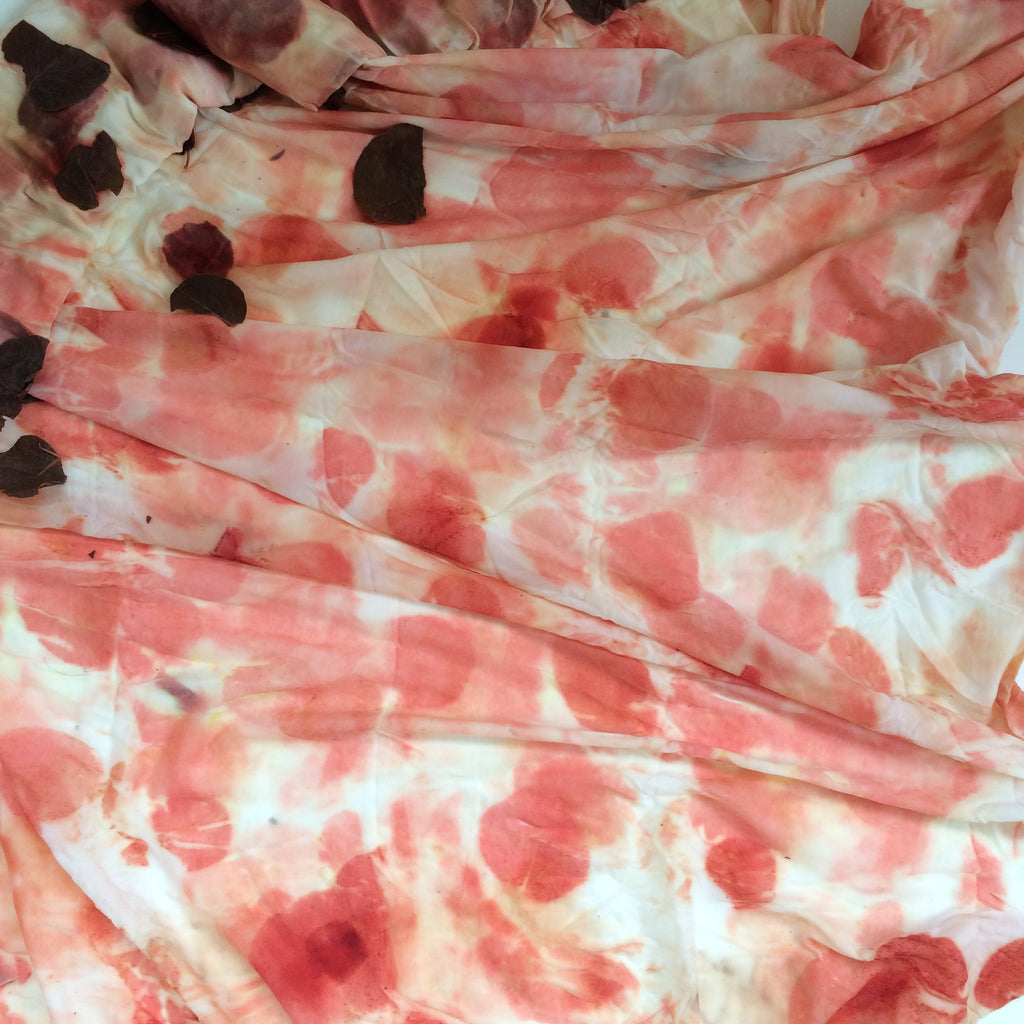 The next day I reused the eucalyptus leaves and bundled them in soya/organic cotton fabric (50/50 blend) and added in a few fresh leaves, too. (Since there is some cotton in the fabric, I still pretreated it in my usual way in soya milk to help with the take up of colour.)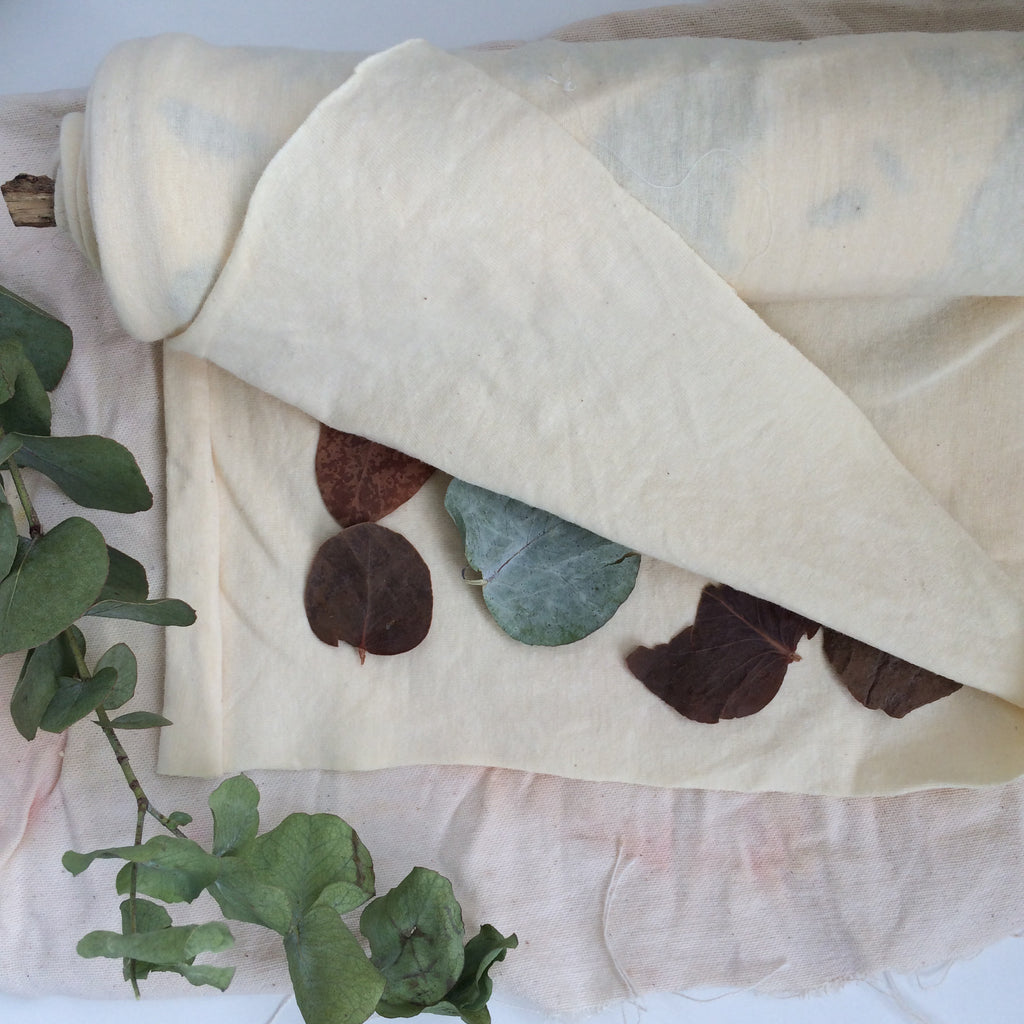 When I unrolled the fabric, the immediate result wasn't as striking as with the bamboo but I liked the range of different colours. I noticed that the leaf imprints were captured in more detail on this fabric. The colour didn't bleed through the layers of fabric like with the bamboo, so each print was more distinct. I suspect that more colour will remain on the soya fabric (compared to the bamboo) after rinsing, but I'll have to wait and see.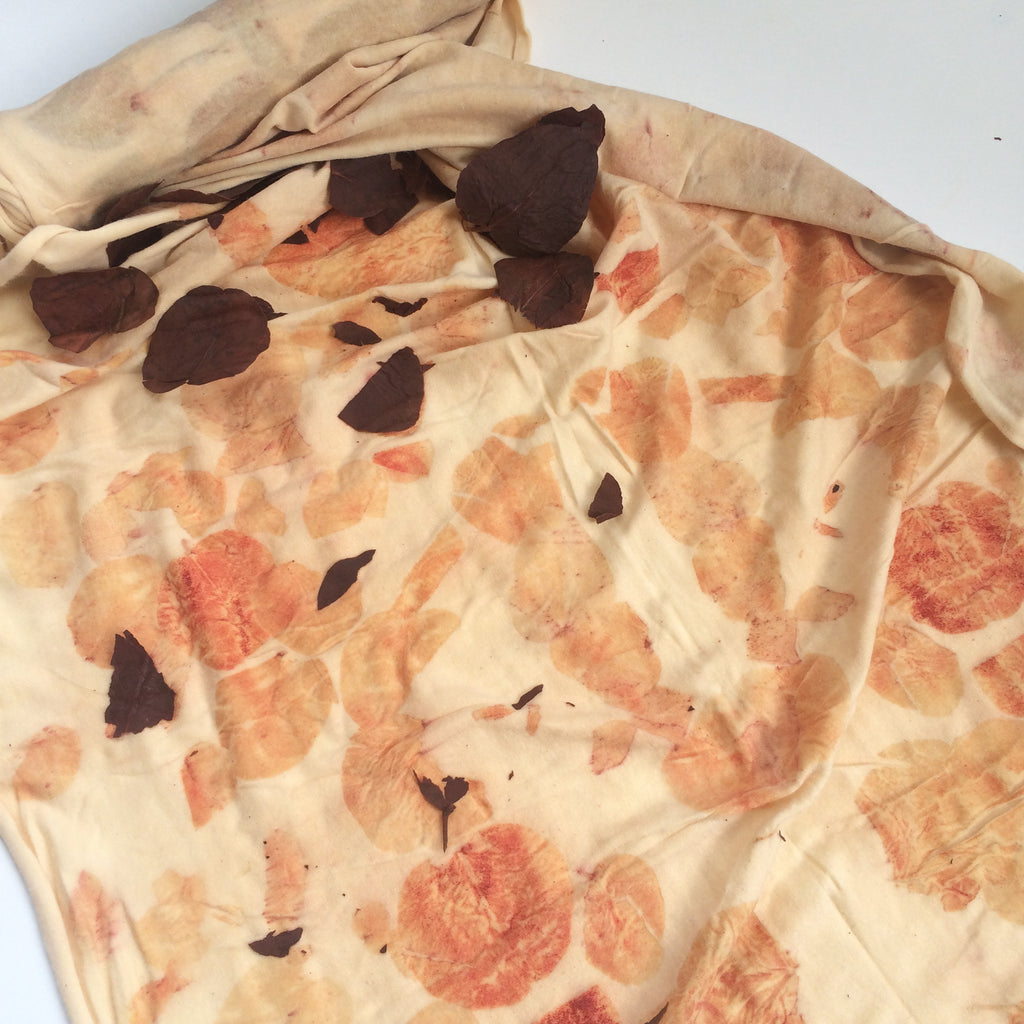 The reason I was keen to try soya fabric is because it is a protein fibre like wool and silk, but of course it is plant derived. As I am vegan I do not use animal products of any kind, but I do appreciate that protein fibres absorb plant dyes better than cellulose fibres, like cotton and bamboo. Soya fabric seems to be a way around this moral issue and enables me to test out protein fibres.
Some vegans use "peace silk" where the silk worms are not killed, but from what I understand, the farming of silk worms to produce silk even in this way is far from cruelty free and still involves the exploitation of living creatures.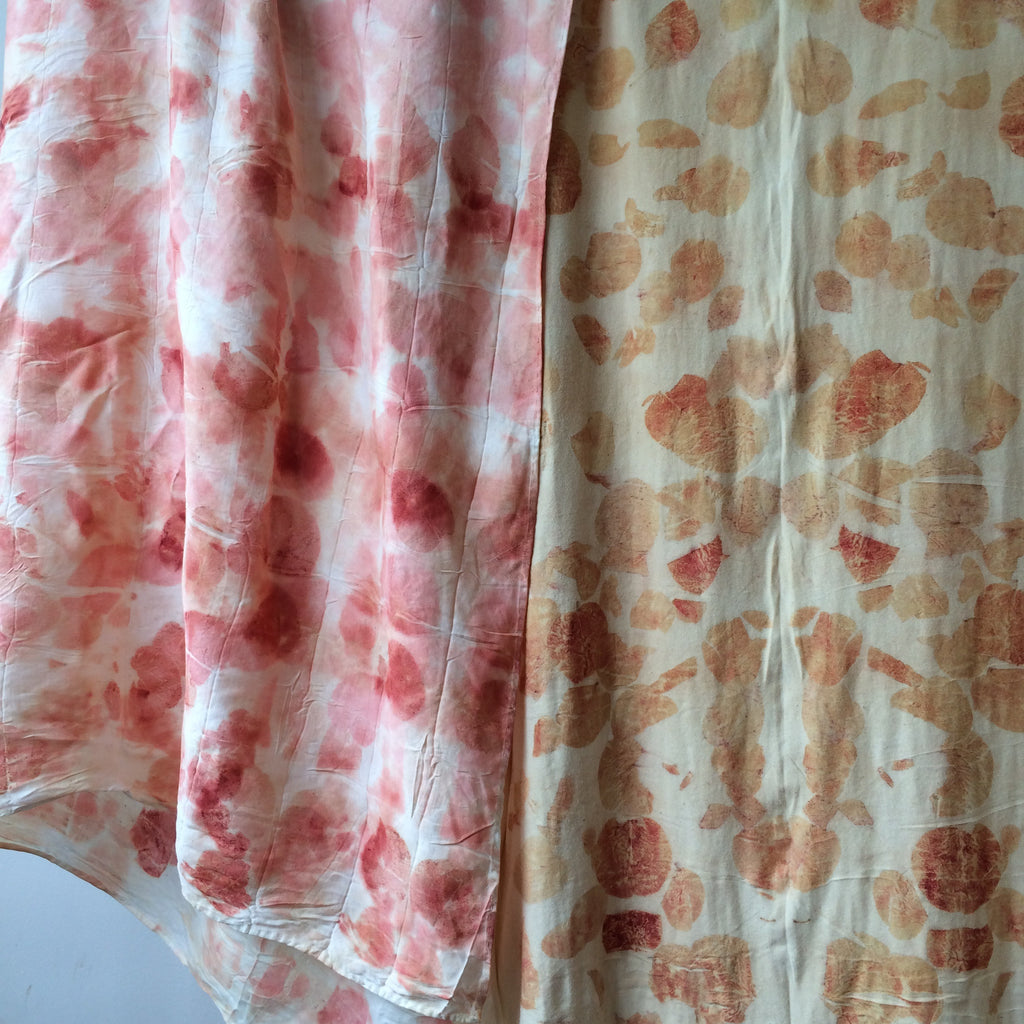 The bamboo fabric on the left has produced pinks and reds, which I would describe as more summery colours, and the soya blend on the right is more autumnal.
These scarves will be for sale in a few weeks. I don't rinse fabric for a few weeks in order to help with the fastness of the colours. It's a long process but it's worth it!