Update: the magazine is now available to order here.
I have something very special to share with you today… I've been secretly working on a project over these past few months: a new magazine! Here's a sneak peek of the cover design.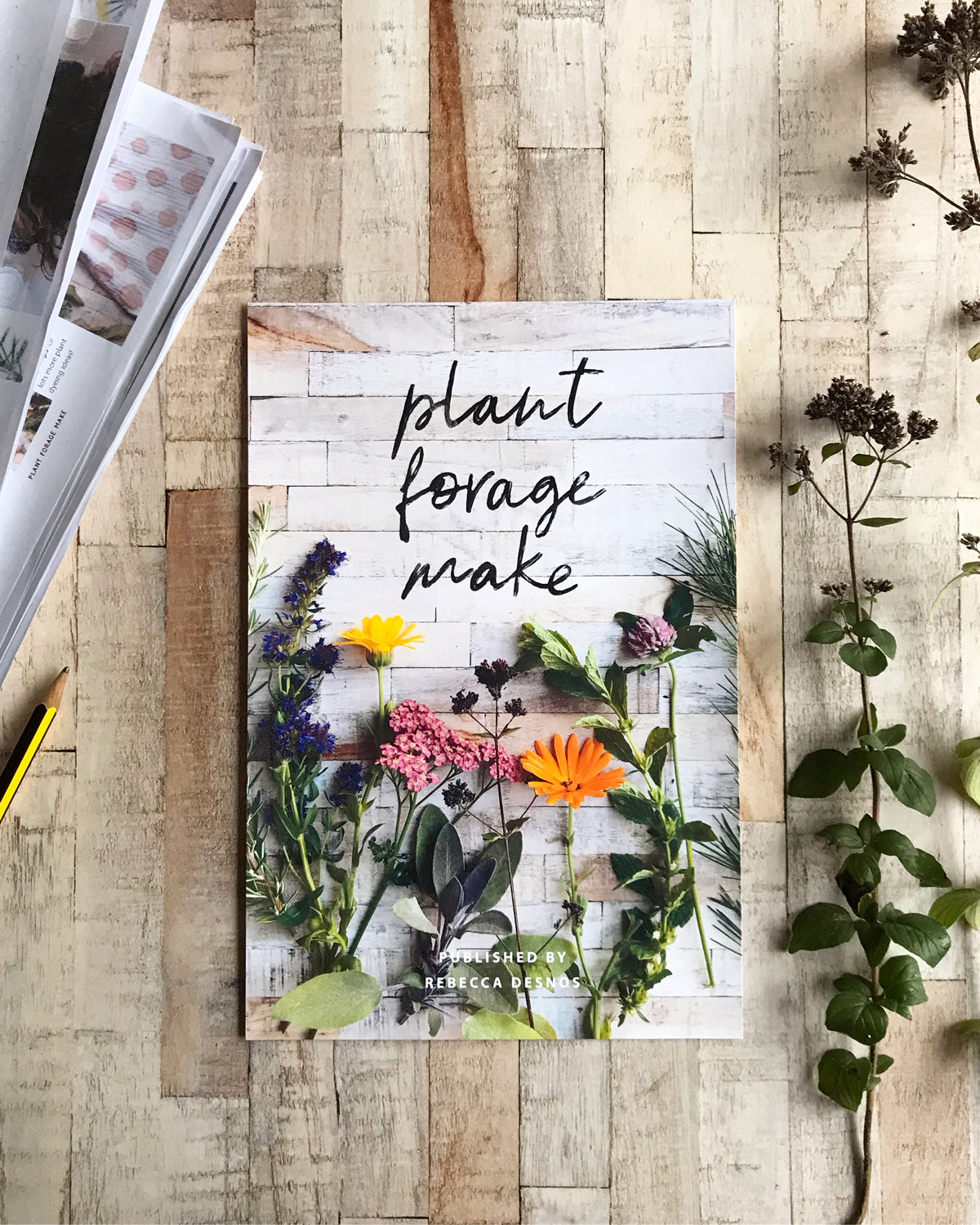 Plant Forage Make is a new magazine for plant lovers and crafters.This special magazine is like a hug, designed to lift your spirits, encourage you to slow down and take notice of the natural world around you.
The theme for volume 1 is Scent. Contributors from around the world look at the positive effect of botanical scents on our mood and wellbeing, share recipes with scented flowers and herbs, natural dyeing tutorials, as well as foraging, cooking and gardening ideas.
The magazine is designed to be a special little book that you'll cherish forever.
It's published by me (Rebecca Desnos) a natural dyer and independent publisher in the UK. My vision is to unite different plant crafts and explore our relationship with plants. Together, let's celebrate plant creativity in every form!
Highlights from the first volume:
Forest Bathing, by Desiree Bell
Therapeutic horticulture, by Victoria Stevens
Recipes for herbal facial steam & a scented balm, by The Mindful Apothecary
Dyeing with bay leaves, by Rebecca Desnos
Bundle dye a pillowcase with rose petals, by Liz Spencer, The Dogwood Dyer
Recipes for floral facial masks, by Herbal Academy
How to make a herbal wreath by Essence + Alchemy
Recipe for a rollerball essential oil perfume by Essence + Alchemy
Lemonbalm doughnuts with a rose glaze by Tara Lanich-LaBrie, The Medicine Circle
Rose petal chocolate coins, by Tara Lanich-LaBrie, The Medicine Circle
Exploring memory + scent, by Katie Whittington
Make your own herbal sprinkle blend, by Cat Seixas, The Olive Trees and the Moon
How herbalists use scent to determine the medicinal value of plants, by Kim Walker, Handmade Apothecary
Article + tea blend by Liza Couse, Plena Plena
Travel writing + herbal recipes, by Alice Griffin
Interviews with artist Claudia Lowry, and herbalist Kim Walker.
Pollinators and scented plants, by Becky Searle, Sow Much More.
When will it be released?